DINAMIKA GLOBALISASI BUDAYA KOREA DI INDONESIA DAN POLA KONSUMSI REMAJA "KOREAN WAVE" DI MEDIA SOSIAL INSTAGRAM
Keywords:
Globalization, Korean Culture, Technological Determinism
Abstract
Fokus artikel ilmiah ini adalah perkembangan teknologi komunikasi dan informasi yang yang lahir dari globalisasi memiliki kekuatan dan pengaruh terhadap pola konsumsi budaya Korea remaja Indonesia di media sosial Instagram. Globalisasi menciptakan kompetisi dan saling ketergantungan di antara negara-negara di dunia. Selama ini, dominasi globalisasi selalu diidentikkan dengan Amerika Serikat. Namun ada fenomena menarik yang sedang populer akhir-akhir ini yang merupakan Korean Wave. Dalam determinisme teknologi dikatakan bahwa manusia adalah objek dari teknologi itu sendiri dan interaksi sosial suatu masyarakat sangat dipengaruhi oleh perkembangan serta teknologi yang mereka konsumsi. Konsumerisme dan pola hidup konsumtif telah menjadi budaya bagi remaja pecinta budaya Korea hal ini karena media menjadi faktor pembentuk gaya hidup dan pola konsumsi suatu masyarakat seperti yang dikatakan oleh Jean Baudrillard. Simbol dan ideologi budaya Korea telah berhasil diserap dan menjadi gaya hidup sehari-hari sebagian besar remaja Indonesia karena media memiliki kekuatan dalam memproduksi segala macam jenis budaya populer yang hasilnya didistribusikan, dipromosikan melalui jaringan media global.
References
Baudrillard, Jean. (2013). Masyarakat Konsumsi. Kreasi Wacana. Yogyakarta
Croteau, David & William Hoynes. (1997). Media Society: Industries, Images and Audiences. Pine Forge Press, London.
Engel, J.F et all. (1995). Consumer Behaviour, Eight Edition. The Dryden Press.New York.
Gunawan, Ary H. (2010). Sosiologi Pendidikan. Rineka Cipta. Jakarta
Hat, et all. (2008). East Asian Pop Culture. Analysing The Korean Wave. Hong kong
University Pers. Hong Kong.
Jackson, TE&Bradley ,P. (2005). Luxury or Lock-In? The Carbon Implications of Consumer Lifestyles in the UK. Guildford: Surrey. Unpublished Mimeo.
Lee, Martyn J. (2006). Budaya Konsumen Terlahir Kembali. Kreasi Wacana. Yogyakarta.
Livingstone, Sonia&Liverauw, Leah. (2006). Introduction to the Updated Student Edition.
The Handbook Of New York Media London. Sage Publication Ltd.
Mahmudah, Siti. (2012). Psikologi Sosial Teori&Model Penelitian. UIN-Maliki Press Malang.
McLuhan, Marshall. (1994). Understanding Media: The Extension of Man. London. The MIT Press.
McQuail, Dennis. (2011). Teori Komunikasi Massa. Salemba Humanika. Jakarta.
Rogers, Everett M. (1986). Communication Technology. The Media in Society. The Free Press. New York.
Setiadi, Elly M et all. (2007). Ilmu Sosial dan Budaya Dasar. Kencana. Jakarta
Soekanto, Soerjono. (2012) Sosiologi Suatu Pengantar. PT. Raja Grafindo Persada.Jakarta.
Suryanto, Bagong. (20130. Sosilologi Ekonomi: Kapitalisme dan Konsumsi di Era Masyarakat Post-Modern. Prenada Media Grup. Jakarta.
Sussman, Gewrald. (1997). Communication, Technology and Politics in The Information Age. Sage Publication Ltd. London.
Dermatoto, A. (2009). Membedah Gagasan Post Modernisme Baudrillard: Realitas Semu. Jurnal Dilema Vol 21. No. 2.
Ridaryanthi, Melly. (2014). Bentuk Budaya Populer dan Konstruksi Perilaku Konsumen. Studi Terhadap Remaja. Jurnal Visi Komunikasi Vol. 13 No. 01.
Saefudin, Asep. (2008). Perkembangan Teknologi Komunikasi: Perspektif Komunikasi Peradaban. Jurnal Mediator Volume 9 No.2
Susianto, Harry. (1993). Studi Gaya Hidup Sebagai Upaya Mengenali Kebutuhan Anak Muda Dalam Jurnal Psikologi dan Masyarakat. Jurnal ISPSI dan Penerbit PT. Gramedia Wirasarana Indonesia. Jakarta.
Yulianita, Nenny. (2001). Media Massa dan Gaya Hidup Wanita. Jurnal Mimbar
No. 3 Tahun XVII. Bandung.
Yang, Jonghoe. (2012). The Korean Wave (Hallyu) in East Asia: A Comparison of Chinesse, Japanese and Tawainess Audience Who Watch Korean Tv Dramas.
Jurnal Development and Society Vol. 41 No. 1. Sungkyunkwan University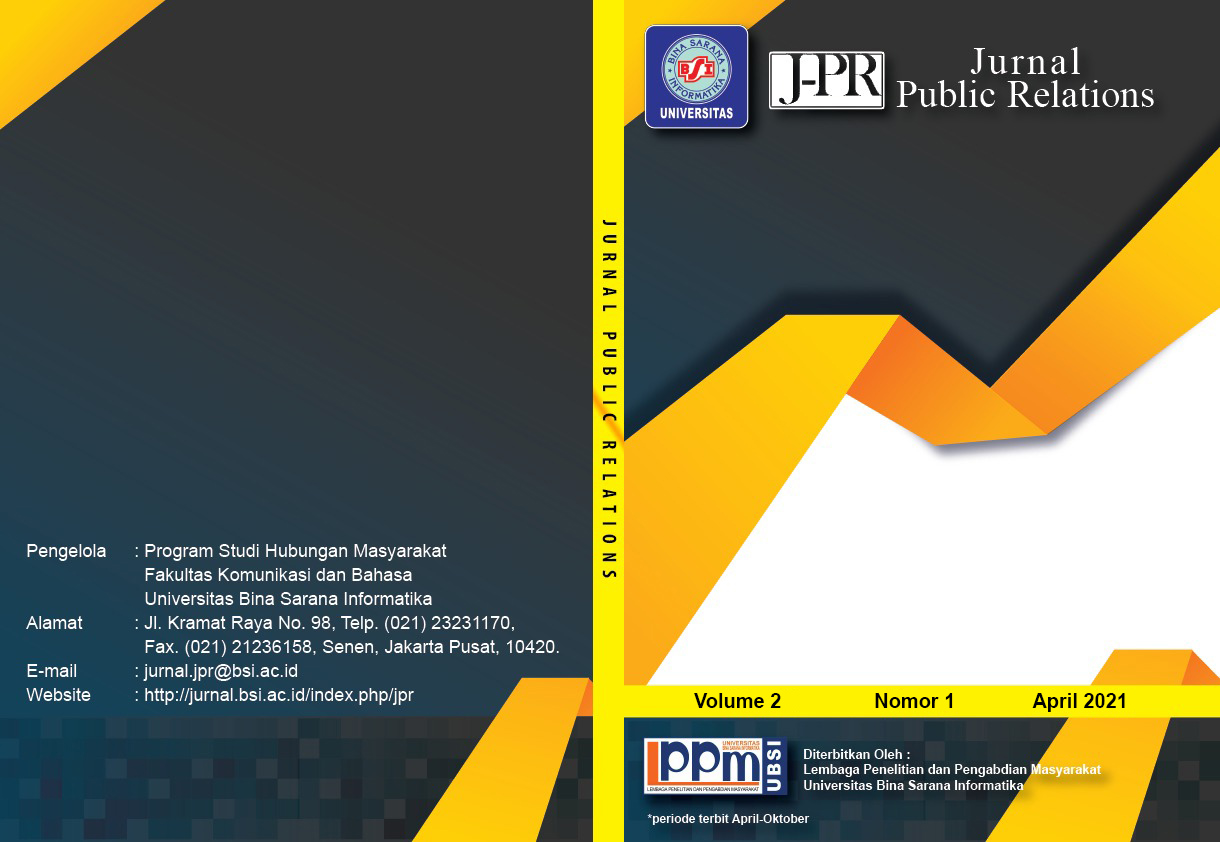 Downloads