Memprediksi Pola Ban Hero Pada Game Mobile Legends Menggunakan Algoritma Apriori
Keywords:
Data Mining, Mobile Legends, Apriori Algorithm
Abstract
In this digital era, the development of video games is so rapid, from console-based to smartphone devices. One of the trending video game genres is the Multiplayer Online Battle Arena (MOBA) with one of the most popular MOBA games, the Mobile Legends game. In winning a match in a Mobile Legends game, a good game strategy is needed from each team to defend the base and destroy the opponent's base, one of which is by Ban Hero or banning some existing heroes so that they cannot be used both for the opposing team and for the opposing team. own team. Therefore, this study was conducted to predict the pattern of hero tires using the Apriori algorithm which was carried out on 9 attributes of Hero Mobile Legends. From the results it is known that CHOU Hero is more widely used and not banned compared to 8 other Heroes
References
Damariva, Z., Santiya, J. W., Hutomo, R., & Ardiko, D. (2018). Identification of Forms of Capital in Multiplayer Online Battle Arena (MOBA) Video Games: Study of Mobile Legends Gamers in Indonesia. Indonesia International Graduate Conference on Communication (IndoIGCC) Proceeding, 2, 336–349.
Fachrurozi, A., Junaedi, M., Putra, J. L., & Gata, W. (2020). Algorithm Implementation Of Interest Buy Apriori Data On Consumer Retail Sales In Industry. Journal of Informatics and Telecommunication Engineering, 4(1), 48–56. https://doi.org/10.31289/jite.v4i1.3775
GIBRAN, R. (2016). Analisis Aturan Asosiasi Menggunakan Algoritma Apriori Untuk Menentukan Inventori Apotek. Skripsi, Fakultas Ilmu Komputer, 5.
Gunadi, G., & Sensuse, D. I. (2016). Penerapan metode data mining market basket analysis terhadap data penjualan produk buku dengan menggunakan algoritma apriori dan frequent pattern growth (fp-growth): studi kasus percetakan PT. Gramedia. Telematika MKOM, 4(1), 118-132.
Leonardo, V., Santoso, L. W., Tjondrowiguno, A. N., Studi, P., Informatika, T., Industri, F. T., Petra, U. K., & Siwalankerto, J. (2018). Sistem Rekomendasi Item Pada Game Dota 2 dengan Multilayer Perceptron Neural Network.
Mustofa, Selawati, A., Asteroid, kurani mega, & Ridha, meirina suci. (2018). IMPLEMENTASI ALGORITMA APRIORI UNTUK ANALISA PEMILIHAN TIPE KARAKTER PADA PERMAINAN MOBILE LEGEND. AKRAB JUARA, 3(1), 1–7.
Pascarella, L., Palomba, F., Di Penta, M., & Bacchelli, A. (2018). How is video game development different from software development in open source? Proceedings - International Conference on Software Engineering, 392–402. https://doi.org/10.1145/3196398.3196418
Putra, J. L., Raharjo, M., Sandi, T. A. A., Ridwan, R., & Prasetyo, R. (2019). Implementasi Algoritma Apriori Terhadap Data Penjualan Pada Perusahaan Retail. Jurnal Pilar Nusa Mandiri, 15(1), 85–90. https://doi.org/10.33480/pilar.v15i1.113
Summerville, A., Cook, M., & Steenhuisen, B. (2016). Draft-Analysis of the ancients: Predicting draft picks in DotA 2 using machine learning. AAAI Workshop - Technical Report, WS-16-21-(Godec), 100–106.
Syahputri, N. (2020). Penerapan Data Mining Asosiasi pada Pola Transaksi dengan Metode Apriori. J-SAKTI (Jurnal Sains Komputer Dan Informatika), 4(September), 728–736.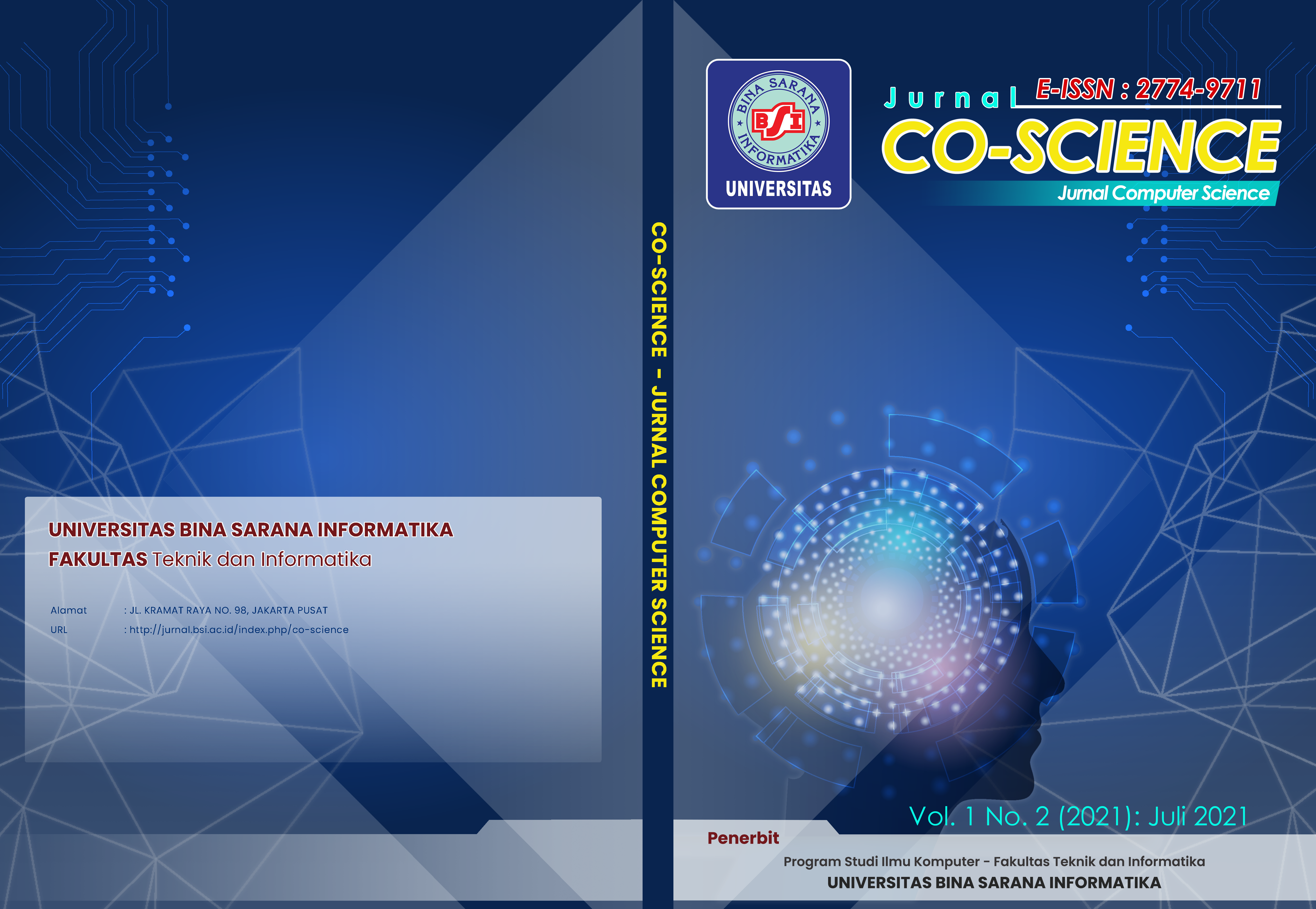 Downloads
License
Copyright (c) 2021 Jordy Lasmana Putra, Syarah Seimahuira
This work is licensed under a Creative Commons Attribution-NonCommercial-ShareAlike 4.0 International License.