Penerapan Firewall Dan Protokol IpSec/L2TP Sebagai Solusi Keamanan Akses Jaringan Publik
Keywords:
firewall, l2tp, vpn
Abstract
Firewall is an algorithm that allows filtering activities to determine access restrictions on a komputer  that can use Publik  network access and which komputer s cannot pass through Publik  network access, this is commonly called filtering. As time goes by, the development of today's technology is increasing rapidly. that the sophistication of technology is a major influence in facilitating human life. Based on this, the authors create a Firewall and IpSec/L2TP Protocol as a Security Solution for PT.Neu Indonesia, which aims to prevent attacks on the types of malware found on a site circulating on Publik  networks by filtering it with the use of the firewall itself so that the risk of crime in the cyber world can minimize the occurrence of illegal access that can enter the PT.Neu Indonesia network.
References
Firmansyah, Wahyudi, M & Rachmat, P. (2018). Analisis Perbandingan Kinerja Jaringan CISCO Virtual Router Redundancy Protocol (VRRP) Dan CISCO Hot Standby Router Protocol (HSRP). Teknik Komputer AMIK BSI Tegal, 1(1), 764–769.
Firmansyah, Dewi, S., & Purnama, R. adi. (2020). Quality Of Service Gateway Load Balancing Protocol Message Digest Algorithm 5 Authentication Untuk Peningkatan Kualitas Jaringan. Jurnal Teknik Informatika, 5(November), 45–50.
Firmansyah, & Wahyudi, M. (2021). Analisis Performa Access Control List menggunakan Metode Firewall Policy Base Performance Analysis of the Access Control List Using the Firewall Policy- Based Method. 20(2), 283–292. https://doi.org/10.30812/matrik.v20i1.1068
Maulana, A.-. (2018). Penerapan Routing EIGRP, RIPv2 Dan OSPF Pada IPv6 Menggunakan Metode Redistribution. Jurnal Pendidikan Teknologi Dan Kejuruan, 15(2), 234–243. https://doi.org/10.23887/jptk-undiksha.v15i2.14276
Maulana, A., & Fauzi, A. (2019). Administrasi jaringan Komputer (1st ed.). Graha Ilmu.
Mugi Raharjo, Frengki Pernando, A. F. (2019). Perancangan Performansi Quality Of Service Dengan Metode Virtual Routing Redudancy Protocol (VRRP). Teknik Komputer, V(1), 87–92. https://doi.org/10.31294/jtk.v5i1.4555
Pratama, E. K. (2019). IMPLEMENTASI HOT STANDBY ROUTER PROTOCOL CISCO PADA JARINGAN THIN CLIENT. Jurnal AKRAB JUARA, 4(4), 160–168.
Pratama, E. K., Hasan, F. N., & Asteroid, K. M. (2018). PEMANFAATAN REDUDANCY ROUTER DENGAN FITUR VRRP MIKROTIK PADA JARINGAN THIN CLIENT. AKRAB JUARA, 3(2), 21–28.
Syawaludin, H. A., Fauzi, A., & Rosyida, S. (2020). PERANCANGAN DAN IMPLEMENTASI JARINGAN TUNNEL DENGAN METODE PPTP PADA YAYASAN PENDIDIKAN BINA PUTERA INDONESIA. 7(1), 133–142. https://doi.org/https://doi.org/10.22202/ei.2020.v7i1.4346
Wahyudi, M., & Firmansyah. (2021). Network Performance Optimization using Dynamic Enhanced Interior Routing Protocols Gateway Routing Protocol for IPv6 (EIGRPv6) and IPv6 Access Control List. Journal of Physics: Conference Series, 1830(1). https://doi.org/10.1088/1742-6596/1830/1/012017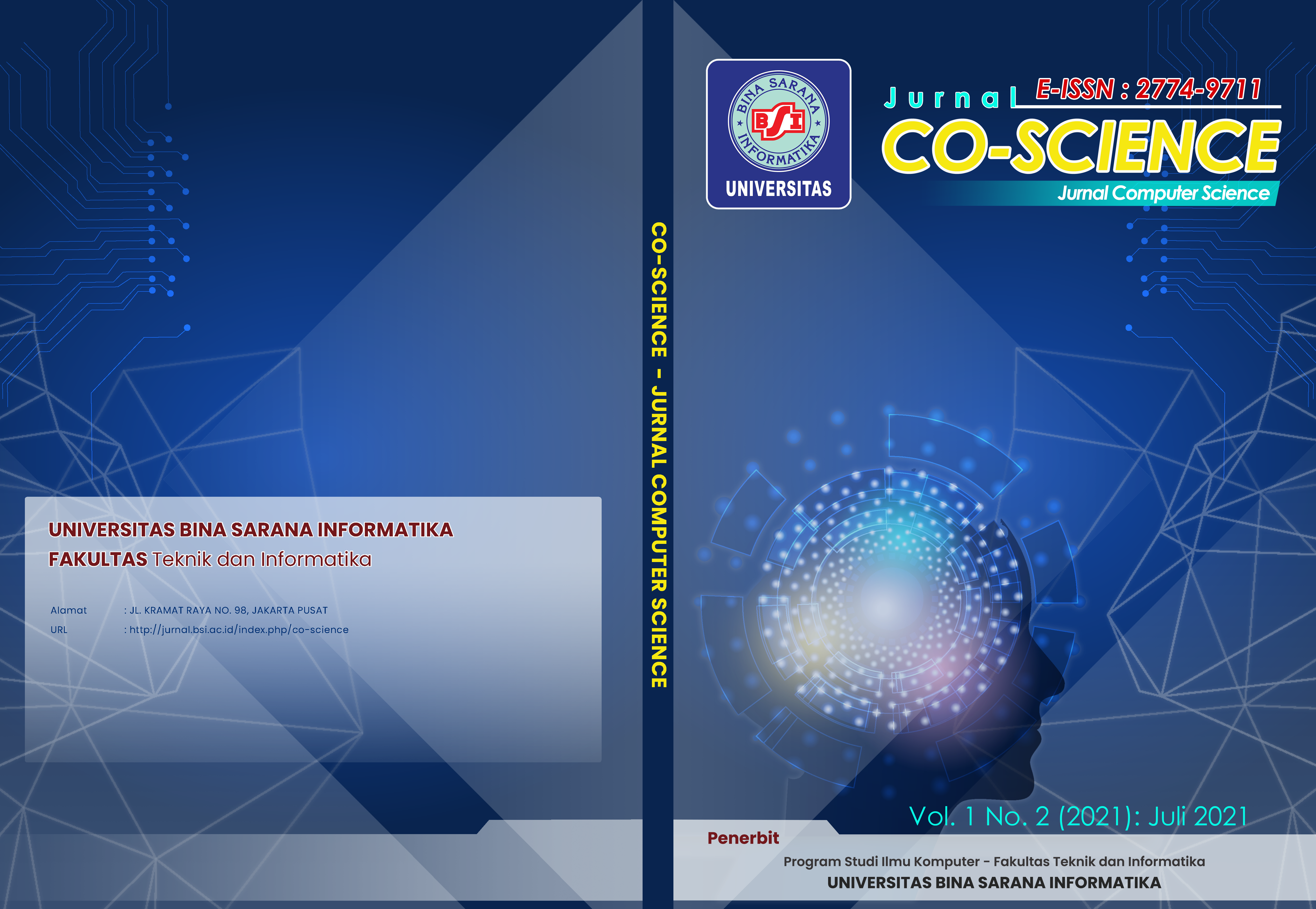 Downloads
License
Copyright (c) 2021 Computer Science (CO-SCIENCE)
This work is licensed under a Creative Commons Attribution-NonCommercial-ShareAlike 4.0 International License.