ANALISIS PENGGUNAAN FACEBOOK ADS DI KABUPATEN TANGERANG MENGGUNAKAN TECHNOLOGY ACCEPTANCE MODEL
Keywords:
TAM, Facebook, Ads
Abstract
Perkembangan dunia digital dapat membantu kehidupan manusia dalam segala bidang termasuk peningkatan ekonomi dalam penjualan barang-barang dengan menggunkan media sosial sebagai media promosi penjualan, seperti halnya Facebook Ads, akan tetapi keamanan data pengguna facebook beberapa kali menjadi masalah dan bocor ke public diperjual belikan dan tersebar di internet dan mengakibatkan dampak dan resiko sosial teknologi terhadap privasi dan kesejahteraan para penggunanya, penelitain ini menggunkan model TAM (Technology Acceptance Model) yang mana model TAM ini merupakan salah satu metode yang dapat digunakan untuk mengukur penerimaan teknologi oleh pengguna, yang di dasarkan pada persepsi kemudahan (perceived ease of use) yang bisa mendefinisikan sejauh mana pengguna memiliki keyakinan bahwa sistem tersebut dapat mmemudahkan dari sisi kegunaan (perceived usefulness) dan mendefinisikan sejauh mana system tersebut akan meningkatkan kinerja para penggunanya.
References
Al-Emran, M., Mezhuyev, V., & Kamaludin, A. (2018). Technology Acceptance Model in M-learning context: A systematic review. Computers & Education, 1-45.
Chang, C. C., Hung, S. W., Cheng, M. J., & Wu, C. Y. (2015). Exploring the intention to continue using social networking sites: The case on Facebook. Technological Forecasting & Social Change, 1-9.
Davis, F. D., & Richard P.Warshaw, P. R. (1989). User Acceptance of Computer Technology: a Comparison of Two Theoretical Models. Management Science, 982–1003.
Estriegana, R., Merodio, J. A., & Barchino, R. (2019). Student acceptance of virtual laboratory and practical work: An extension of the technology acceptance model. Computers & Education, 1-14.
Facebook. (2021, Juni 6). Facebook. Retrieved from Facebook: https://about.facebook.com/company-info/
Ibrahim, R., Leng, N. S., Yusoff, R., Samy, G. N., Masrom, S., & Rizman, Z. I. (2017). E-Learning Acceptance Based On Technology Acceptance Model (TAM). Journal of Fundamental and Applied Sciences, 872 - 889.
Isaak, J., & Hanna, M. J. (2018). User Data Privacy: Facebook, Cambridge Analytica, and Privacy Protection. IEEE Computer Society, 56-59.
Kementerian Komunikasi dan Informatika. (2020, 9 11). Kementerian Komunikasi dan Informatika RI. Retrieved from Kementerian Komunikasi dan Informatika: https://www.kominfo.go.id/content/detail/30653/dirjen-ppi-survei-penetrasi-pengguna-internet-di-indonesia-bagian-penting-dari-transformasi-digital/0/berita_satker
Kemp, S. (2021, Februari 11). Datareportal. Retrieved from Datareportal: https://datareportal.com/reports/digital-2021-indonesia
Kozlowska, I. (2018, April 30). Facebook and Data Privacy in the Age of Cambridge Analytica. The Henry M. Jackson School of International Studies, p. 1.
Kwon, S. J., Park, E., & Kim, K. J. (2014). What drives successful social networking services? A comparative analysis of user acceptance of Facebook and Twitter. The Social Science Journal, 1-11.
Rauniar, R., Rawski, G., Yang, J., & Johnson, B. (2014). Technology acceptance model (TAM) and social media usage: an empirical study on Facebook. Journal of Enterprise Information Management, 6-30.
Sagnier, C., Escande, E., Lourdeaux, D., Thouvenin, I., & Valléry, G. (2020). User Acceptance of Virtual Reality: An Extended Technology Acceptance Model. International Journal of Human–Computer Interaction, 993-1007.
Sung, Y. H., Kim, D. H., Choi, D., & Lee, S. Y. (2020). Facebook ads not working in the same way: The effect of cultural orientation and message construals on consumer response to social media ads. Telematics and Informatics, 001.
Tran, T. P. (2017). Personalized ads on Facebook: An effective marketing tool for online marketers. Journal of Retailing and Consumer Services, 230-242.
Wilson, R. E., Gosling, S. D., & Graham, L. T. (2012). A Review of Facebook Research in the Social Sciences. Assocaition For Psychological Science, 203-220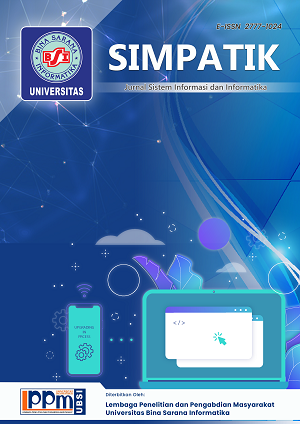 Downloads
How to Cite
Marleftan, J. ., Gunawan, Rusda Wajhillah, Dede Wintana, Taufik Hidayatulloh, & Satia Suhada. (2021). ANALISIS PENGGUNAAN FACEBOOK ADS DI KABUPATEN TANGERANG MENGGUNAKAN TECHNOLOGY ACCEPTANCE MODEL. Simpatik: Jurnal Sistem Informasi Dan Informatika, 1(1), 71 - 81. Retrieved from http://jurnal.bsi.ac.id/index.php/simpatik/article/view/449