Implementasi Metode Profile Matching dan Multi Factor Evaluation Process (MFEP) Dalam Seleksi Pencari Kerja
Keywords:
Decision making, profile matching, MFEP, HR
Abstract
An effective job seekers selection process at the company is needed to assist an organization's decision making. The purpose of this paper is to create a system and development of a decision-making system in the human resources (HR) section to find it easier to determine whether job seekers are accepted or not. The multi factor evaluation process (MFEP) is a very effective approach in dealing with decision problems and Profile matching is a multi-criteria selection method, where the determination of aspects and criteria (name of school, appropriate department, GPA value meets, year of graduation, relevant courses, work experience in the appropriate field, projects that have been handled, salary suitability, domicile, honest, responsible and discipline, cooperation, communicative and self-confidence). The advantage of the profile matching method is the provision of standard values from the main and supporting criteria, making it easier for system users to determine the available options. MPEF needs to define the education value factor, target value and attitude value. The final calculation results provide information referring to the same name. Profile Matching method in the first order with a value of 4.62, the second order of 4.59 and the third order of 4.52. The first order MFEP method = 0.513, the second order = 0.510 and the third order = 0.502. This decision support system not only makes it easier to determine the assessment of job seekers but also provides an alternative sequence of candidates who have the potential to be considered by companies or organizations
References
Afrianty, I., & Umbara, R. (2016). Sistem Pendukung Keputusan (SPK) Menentukan Kelayakan Calon Penerima Zakat Menerapkan Multi- Factor Evaluation Process (MFEP). Seminar Nasional Teknologi Informasi, Komunikasi Dan Industri (SNTIKI) 8, November, 87–94. http://ejournal.uin-suska.ac.id/index.php/SNTIKI/article/view/2813
Britta, M. (2021). 5 Kendala Rekrutmen Karyawan Sering dialami dan Cara Mengatasinya (Issue April). https://sampingan.co.id/post/kendala-rekrutmen-dan-cara-mengatasi
Faizal, E. (2017). Implementasi Metode Profile matching untuk Penentuan Penerimaan Usulan Penelitian Internal Dosen STMIK El Rahma Implementasi Metode Profile matching untuk Penentuan Penerimaan Usulan Penelitian Internal Dosen STMIK El Rahma. Implementasi Metode Profile Matching Untuk Penentuan Penerimaan Usulan Penelitian Internal Dosen STMIK El Rahma, 6(January 2014), 60–65.
Frieyadie, F. (2016). Penggunaan Metode Profile Matching Untuk Sistem Penunjang Keputusan Kenaikan Jabatan Pada Instansi Pemerintah. Paradigma - Jurnal Komputer Dan Informatika, 18(2), 75–80. http://ejournal.bsi.ac.id/ejurnal/index.php/paradigma/article/view/1228
Ikhlas, M. (2019). Penerapan Metode Mfep (Multifactor Evaluation Process) Dalam Pengambilan Keputusan Pemilihan Bibit Kelapa Sawit Terbaik. Jurnal Sains Dan Teknologi: Jurnal Keilmuan Dan Aplikasi Teknologi Industri, 19(1), 16. https://doi.org/10.36275/stsp.v19i1.128
Maharani, D., & Nata, A. (2020). PERBANDINGAN METODE MFEP DAN MAUT DALAM SELEKSI CALON PESERTA OLIMPIADE SAINS NASIONAL ( OSN ) Sistem Informasi , STMIK Royal Kisaran PENDAHULUAN OSN ( Olimpiade Sains Nasional ) merupakan kegiatan perlombaan dibidang sains dan ilmu pengetahuan yang diran. JURTEKSI (Jurnal Teknologi Dan Sistem Informasi), VI(3), 247. https://jurnal.stmikroyal.ac.id/index.php/jurteksi/article/view/793/414
Nashrullah, M. I., Abdillah, G., & Renaldi, F. (2016). SISTEM PENDUKUNG KEPUTUSAN UNTUK REKOMENDASI PROMOSI JABATAN MENGGUNAKAN METODE PROFILE MATCHING DAN ELECTRE Muhammad. Prosiding SNST Ke-7, Pros. SNST ke-7, 196–201.
Putra, J. L., Raharjo, M., Sandi, T. A. A., Ridwan, R., & Prasetyo, R. (2019). Implementasi Algoritma Apriori Terhadap Data Penjualan Pada Perusahaan Retail. Jurnal Pilar Nusa Mandiri, 15(1), 85–90. https://doi.org/10.33480/pilar.v15i1.113
Ramadhan, M. H., & Yusfrizal. (2019). ANALISIS DAN PENERAPAN METODE MULTIFACTOR EVALUATION PROCESS (MFEP) DALAM MENENTUKAN BIBIT TANAMAN BUNCIS YANG LAYAK UNTUK DIBUDIDAYAKAN. Jurnal Sistem Informasi Kaputama (JSIK), 3(1), 18–26.
Sutinah, E. (2017). Sistem Pendukung Keputusan Menggunakan Metode Profile Matching dalam Pemilihan Salesman Terbaik. Informatics for Educators and Professionals, 2(1), 234409.
Syahrizal, M., & Maulidza, D. (2018). Sistem Pendukung Keputusan Pemilihan Televisi Bekas Terbaik Dengan Menggunakan Metode Multi Factor Evaluation Process (MFEP). Jurikom, 5(4), 382–389.
Turaina, R. (2017). Spk Dalam Pemilihan Siswa Kelas Unggul Menggunakan Metode Mfep Di Smp N 2 Solok. Edik Informatika, 3(2), 125–135. https://doi.org/10.22202/ei.2017.v3i2.1662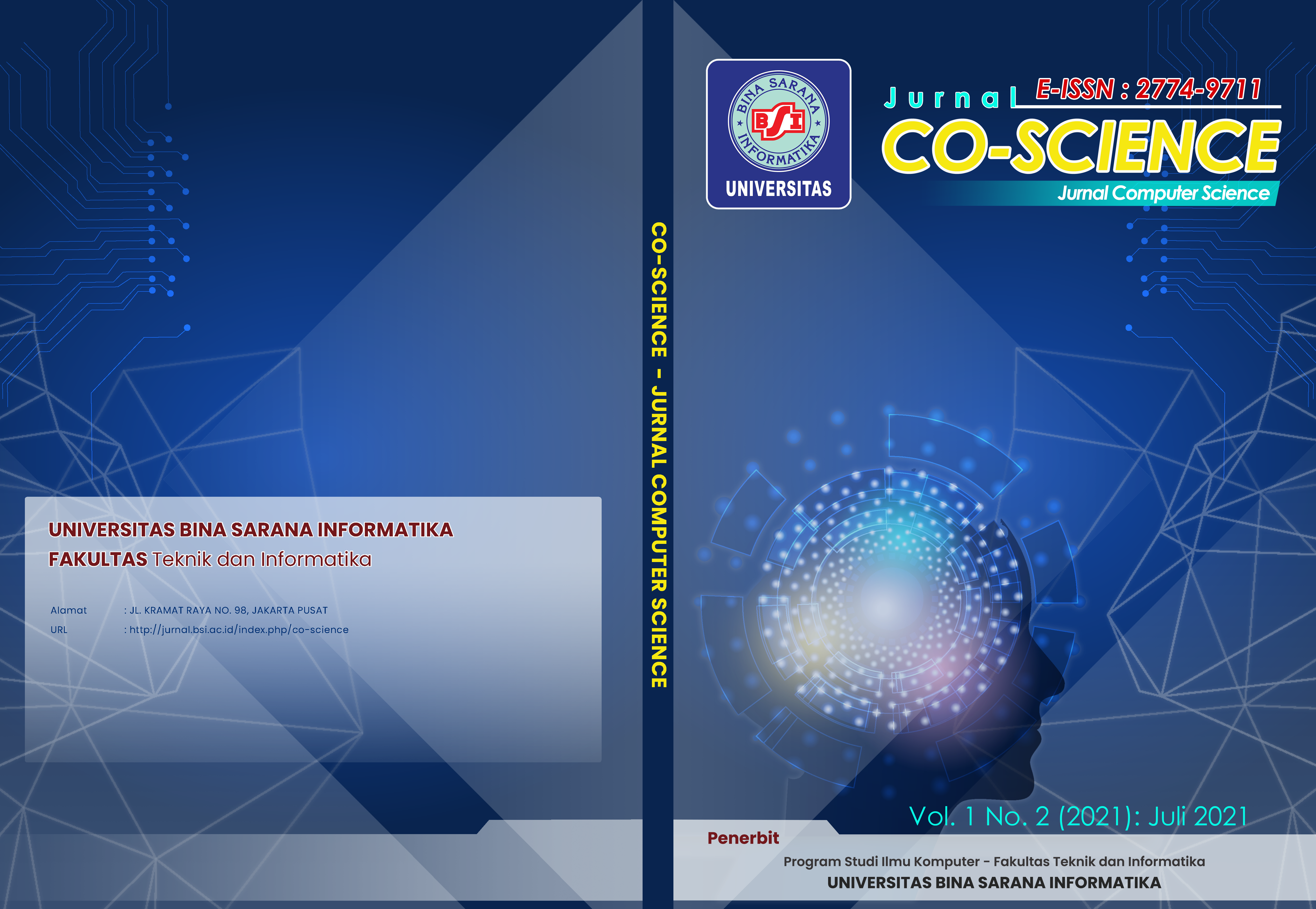 Downloads
License
Copyright (c) 2021 Heru Purwanto , Arfhan Prasetyo, Rachmat Suryadithya
This work is licensed under a Creative Commons Attribution-NonCommercial-ShareAlike 4.0 International License.