Rancang Bangun Aplikasi Pembelajaran Bahasa Arab Untuk Siswa Madrasah Ibtidaiyah Berbasis Android
Keywords:
Aplikasi Android, Pembelajaran Bahasa Arab, Madrasah Ibtidaiyah
Abstract
With the increasingly open mindset of society today, especially Indonesia, it makes it easy for us to accept new things and implement them in our lives, these new things appear in many aspects such as one of which is education. In terms of education, it is better if it is carried out at an early age, especially in terms of learning a second foreign language or a foreign language substituting for English, this is what elementary school teachers have realized and has begun to be implemented recently, to do this elementary schools need tools to create methods. this learning becomes effective. Therefore the authors make an Arabic learning application that will make it easier for elementary school teachers to effectively introduce basic Arabic such as the recognition of the names of the day for elementary school children, which is equipped with sounds and images that can attract children's interests. This application can be run on an Android smartphone with a minimum Android OS 5.0 (Lollipop) and a maximum Android OS is 8.1 (Oreo).
References
Aditama, D., Rosyid, H., & Fahriani, N. (2018). Aplikasi Pembelajaran Alfanumerik Untuk Anak Usia Pra-Sekolah Berbasis Android Menggunakan Metode Tesseract-Ocr. Journal of Computer Science and Informatics Engineering (J-Cosine), 2(1), 70–76. https://doi.org/10.29303/jcosine.v2i1.128
Bismi, W., Maysaroh, M., & Asra, T. (2020). Rancang Bangun Aplikasi Pembelajaran Mahfudzot Untuk Pondok Pesantren Berbasis Android Menggunakan Metode Extreme Programming. Semnas Ristek (Seminar Nasional Riset Dan Inovasi Teknologi), 4(1), 15–21.
Bismi, W., Napiah, M., Putra, J. L., & Shidiq, F. (2021). Rancang Bangun Aplikasi Pembelajaran Bahasa Arab Untuk Siswa Madrasah Ibtidaiyah Berbasis Android.
Dharmawan, E. A., Ginting, S. W., & Noya, F. (2017). Rancang Bangun Aplikasi Penentu Tarif Dasar Ojek Di Kota Ambon Berbasis Android. Jurnal Simetrik, 7(2), 38–41. https://doi.org/10.31959/JS.V7I2.45
Firly, N. (2018). Create Your Own Android Application. Elex Media Komputer.
Juhara, Z. P. (2016). Panduan Lengkap Pemrograman Android (1st ed.). ANDI.
Kurniawan, N. T., & Katarina, D. (2021). PERANCANGAN APLIKASI EDUKASI PEMBELAJARAN IPS BERBASIS ANDROID PADA KURIKULUM 2013. 1398–1401.
Kusniyati, H., & Pangondian Sitanggang, N. S. (2016). Aplikasi Edukasi Budaya Toba Samosir Berbasis Android. Jurnal Teknik Informatika, 9(1), 9–18. https://doi.org/10.15408/jti.v9i1.5573
Putra, J. A., & Agustaf, R. (2019). RANCANG BANGUN VISUALISASI TOURISM GUIDE PROVINSI DAERAH ISTIMEWA YOGYAKARTA. Jurnal Informasi Interaktif, 4(1), (halaman 2).
Rahmawati, E., & Abdurahman, E. (2019). Pemodelan aplikasi dunia islam mengaji berbasis android. 4(2), 197–202.
Ramadhan M, M. Y. (2018). APLIKASI INFORMASI TRANSPORTASI ANGKUTAN UMUM ANTAR KOTA PADA TERMINAL AMPLAS SUMATRA UTARA. Jurnal Sistem Informasi Dan Teknologi (SITECH), 1(2), 1–6.
Salahudin, Z. (2021). APLIKASI PEMBELAJARAN BAHASA KOREA BERBASIS.
Santoso, S., & Nurmalina, R. (2017). Perencanaan dan Pengembangan Aplikasi Absensi Mahasiswa Menggunakan Smart Card Guna Pengembangan Kampus Cerdas (Studi Kasus Politeknik Negeri Tanah Laut). Jurnal Integrasi, 9(1), 84–91.
Septian, H., Hidayat, E. W., & Rahmatulloh, A. (2018). Aplikasi Pengenalan Bahasa Arab dan Inggris untuk Anak-Anak Berbasis Android. Jurnal Online Informatika, 2(2), 71. https://doi.org/10.15575/join.v2i2.100
Supardi, ir. Y. (2017). Koleksi Program Tugas Akhir Dan Skripsi dengan Android. Elex Media Komputer.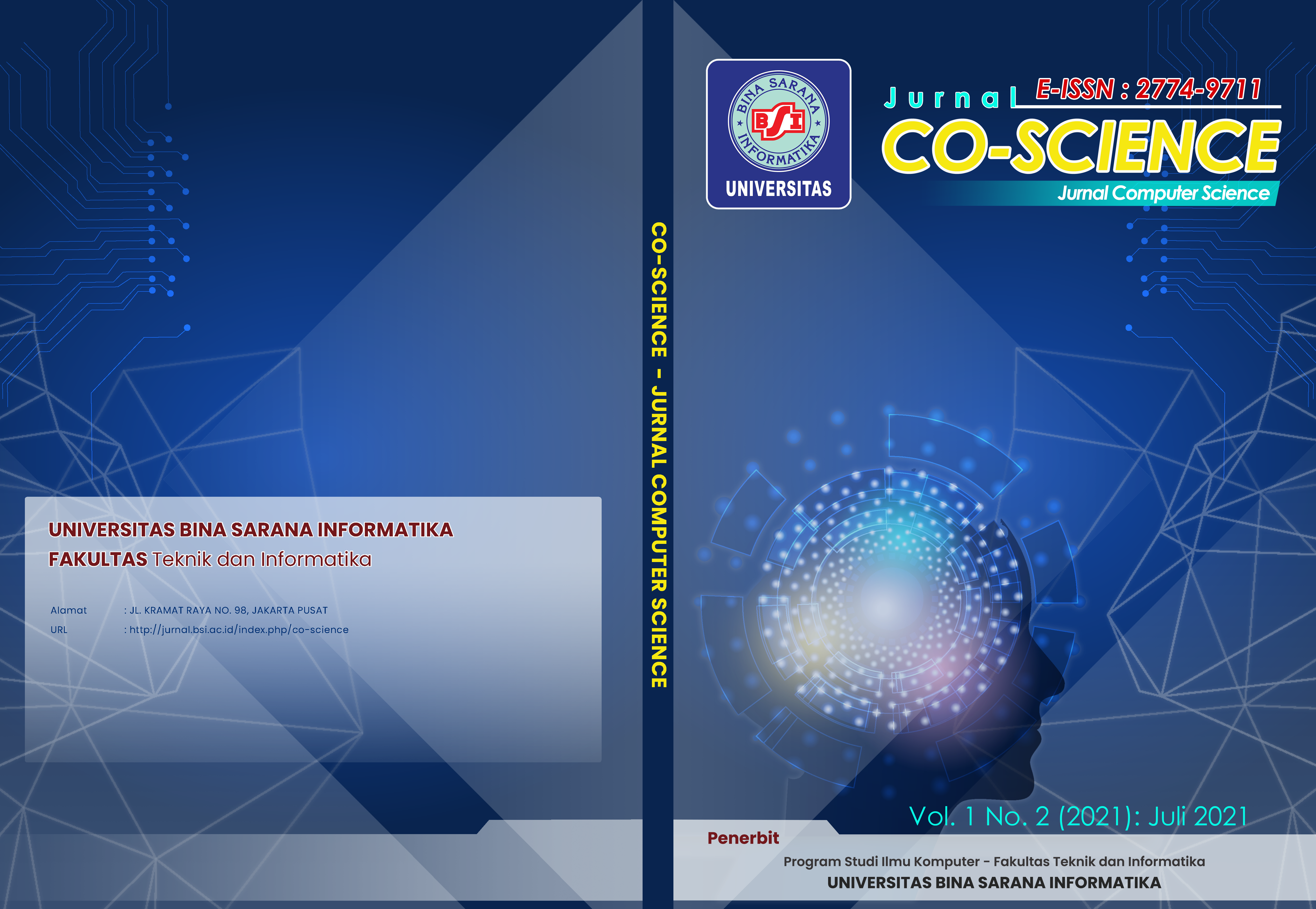 Downloads
License
Copyright (c) 2021 Waeisul Bismi, Musriatun Napiah, Jordy Lasmana Putra, Fajar Shidiq
This work is licensed under a Creative Commons Attribution-NonCommercial-ShareAlike 4.0 International License.