Perancangan Program Penggajian Karyawan Koperasi
Abstract
The computerized role of an Employee Cooperative in managing data into useful information is needed. One that needs to be considered in an Employee Cooperative for the welfare of its employees is management in the payroll sector. With the salary earned, employees can fulfill their daily needs. Employee payroll system processes carried out at Employee Cooperatives still use a manual system, starting from recording and calculating salaries to receiving salaries for employees, thus allowing errors in the employee payroll process. In addition, there is a buildup of data processing that must be recorded or processed repeatedly to get the data of each employee in an effort to compile reports on the results of employee payroll each month. A
program can be an alternative problem solving in processing employee payroll data. With the existence of a well-computerized payroll system, it can avoid the occurrence of errors in the calculation of salary so that the payment of employee salaries can be paid on time. Therefore, with the design of this cooperative employee payroll program, it is made so that the payroll system is better than before.
References
A.S., R., & Shalahuddin, M. (2015). Shalahuddin, M.Rosa A.S. Rekayasa Perangkat Lunak ( Terstruktur dan Berorientasi Objek). Informatika Bandung, 29.
Achyani, Y. E., & Arviana, E. (2017). SISTEM INFORMASI PENDAPATAN JASA BERBASIS WEB PADA KOPERASI PDAM TIRTA PATRIOT BEKASI. INFORMATIKA Diterima Agustus Revisi Agustus Disetujui Agustus, 1(6).
Fridayanthie, E. W., & Mahdiati, T. (2016). RANCANG BANGUN SISTEM INFORMASI PERMINTAAN ATK BERBASIS INTRANET (STUDI KASUS: KEJAKSAAN NEGERI RANGKASBITUNG). Carbohydrate Polymers, 17(1).
Imaniawan. (2017). Sistem Informasi Administrasi Kependudukan Berbasis Web Pada Desa Bogangin Sumpiuh. Indonesian Journal on Networking and Security, 7(3).
Imaniawan, F. F. D., & Elsa, U. M. (2017). Sistem Informasi Penjualan Sepatu Berbasis Web Pada Vegas Hyper Purwokerto. – Indonesian Journal on Software Engineering.
Indrayuni, E. (2018). Website Pengolahan Absensi dan Gaji Pegawai Menggunakan Metode Waterfall. Bina Insani Ict Journal, 5(1).
Jefi, J.-, Joddy, A. M., & Solecha, K. (2020). OPTIMASI SISTEM INFORMASI PENGGAJIAN KARYAWAN BERBASIS WEBSITE. Jurnal Infortech, 2(2). https://doi.org/10.31294/infortech.v2i2.9164
Lamuri, R. (2017). Sistem Informasi Penggajian Karyawan di Koperasi Syariah Riyadh Berbasis Web. Ekp, 13(3).
Malau, Y., & Somadiningrat D.W.K, T. A. (2018). IMPLEMENTASI SLIP GAJI ELEKTRONIK PADA CV MEDIAKU KREATIF (MOTION PRODUCTION). Swabumi, 6(1). https://doi.org/10.31294/swabumi.v6i1.3311
Riki, R. (2018). RANCANG BANGUN SISTEM INFORMASI PENGGAJIAN KARYAWAN PADA KOPERASI KARYAWAN PT GIKEN PRECISION INDONESIA. Jursima, 6(2). https://doi.org/10.47024/js.v6i2.130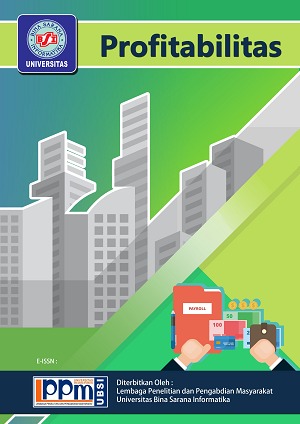 Downloads